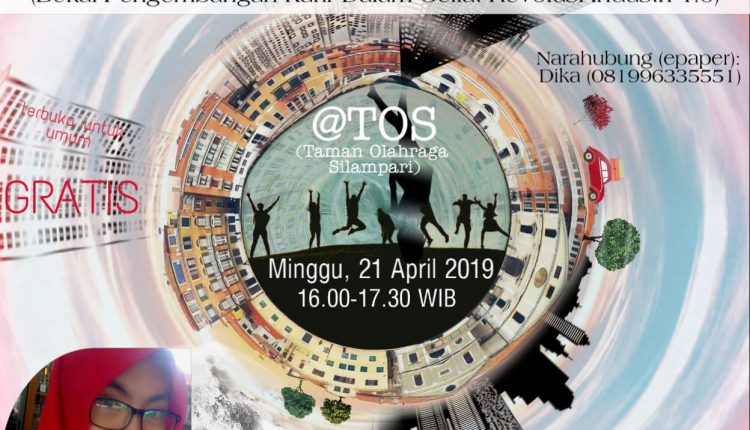 PENGGALIAN POTENSI DIRI (Esai Lingkaran Kopdar #14)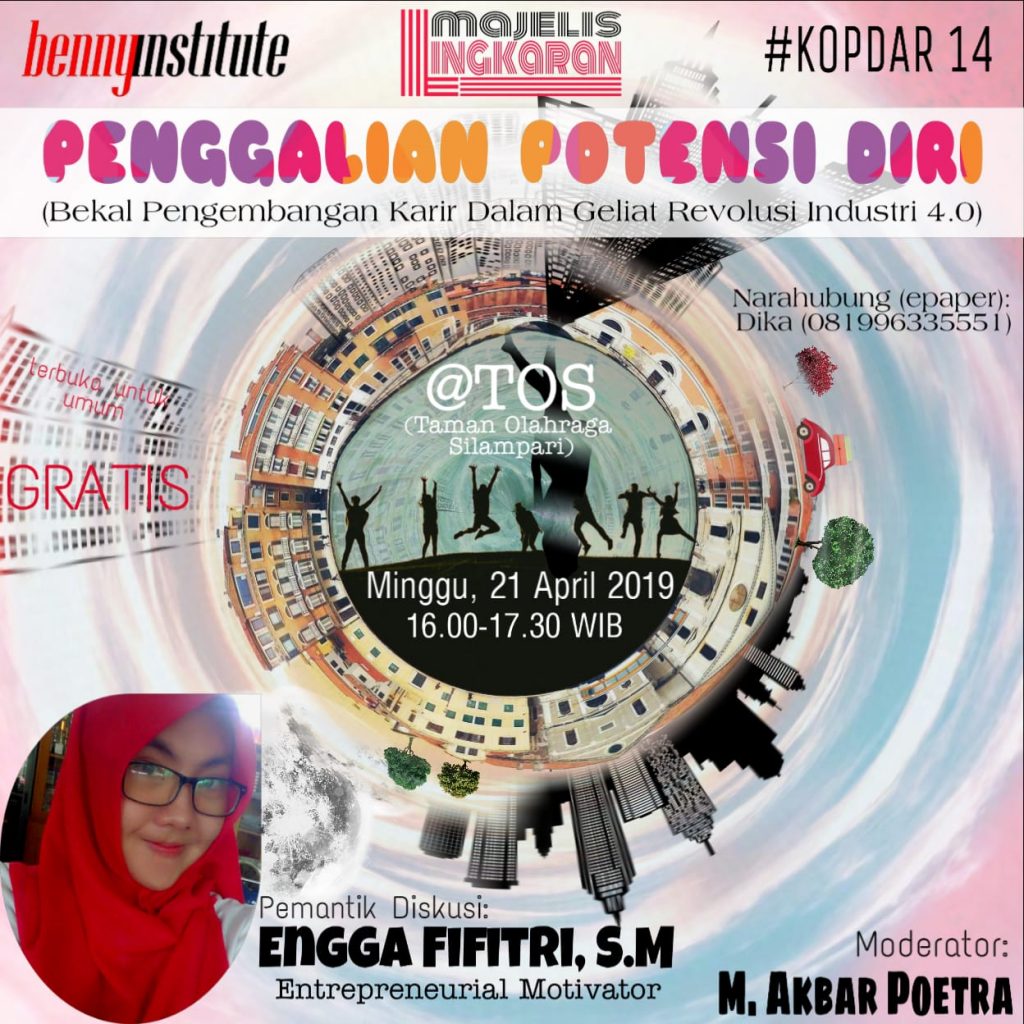 (Bekal Pengembangan karir dalam geliat revolusi industry 4.0)
Oleh : Engga Fifitri, S.M
ABSTRAK
Setiap orang tentu akan memiliki potensi di dalam dirinya, meski mungkin saja jumlah potensi ini tidak pernah sama antara satu dengan yang lainnya. Berbagai macam potensi diri inilah yang kemudian akan Membantu kita untuk memiliki kemampuan yang baik dalam berbagai hal, termasuk dalam mengatasi berbagai masalah dan kendala yang kita temui di dalam kehidupan kita. Begitu pentingnya untuk memiliki potensi diri yang maksimal di dalam hidup ini, agar semua bisa berjalan dengan lebih mudah dan menyenangkan bagi diri kita sendiri. Karna hal tersulit dalam hidup ini adalah mengatasi diri sendiri dan bukan mengatasi orang lain atau musuh kita sekalipun, sebab kita seringkali tidak ingin bercermin dan melihat semua yang ada di dalam diri kita (keburukan dan kebaikan).  Dalam geliatnya revolusi industry, kita perlu melakukan pembenahan dalam hal pengelolaan data publik dan penguatan research-research terkait dengan pengembangan  diri ini. Selain itu, persiapan infrastruktur seperti jaringan komunikasi yang dapat mendukung pertumbuhan industri digital hingga ketersediaan sumber energi yang tidak terbatas melalui energi terbarukan yang ramah lingkungan adalah keharusan. Tidak kalah pentingnya adalah kesadaran manusia-manusia Indonesia untuk mau berbuat. Niall Ferguson dalam bukunya "The Square and The Tower: Networks, Hierarchies and the Struggle for Global Power" memaparkan dalam sejarah manusia sebuah peradaban masyarakat dibangun mengikuti dua pola. Pola menara (tower) yang hierarkial, dimana mereka-mereka yang ditahbiskan sebagai pemimpin memutuskan yang terbaik bagi kelas masyarakat yang berada dibawahnya. Pola peradaban alun-alun (square), dimana semua orang berkumpul berjejaring dan bekerja sama. Pola menara jelas sudah usang untuk diterapkan dalam menghadapi Revolusi Industri 4.0 ini. Manusia-manusia Indonesia harus mau bertemu di alun-alun (square) untuk berjejaring dan bekerja sama untuk mempersiapkan bangsanya agar tidak tergilas perkembangan zaman. Memasuki era revolusi industry 4.0 mau tidak mau harus siap. Harus punya strategi bagamaina menghadapi situasi tersebut. Karena persaingan semakin tinggi.
Kata kunci: potensi dan pengembangan
Penggalian Potensi Diri
Pada dasarnya, ada banyak sekali orang yang tidak mampu menemukan potensi dirinya, bahkan sekedar hanya mengenalinya di dalam diri mereka. Hal ini tentu sangat merugikan, mengingat potensi diri akan sangat membantu seseorang untuk bisa berkembang dengan maksimal dan mencapai banyak hal di dalam kehidupannya.
Berbicara tentang potensi diri apa yang kalian pikirkan? Sebenarnya apa sih potensi diri itu? Mengapa penting? Pernah nggak pertanyaan itu melintasi benak kalian?  Dan pastinya pernah bagaimana menggali potensi yang ada dalam diri?
sebenarnya kata potensi itu kemampuan sedangkan diri adalah diri sendiri jadi potensi diri itu maksudnya adalah kemampuan diri sendiri, yang tentunya jarang terlihat sepenuhnya oleh seseorang tersebut. Dan mengapa mengenali potensi diri itu penting?
Ketika seseorang tidak mampu menemukan potensi dirinya, maka besar kemungkinan orang tersebut hanya akan melakukan pencapaian yang itu-itu saja sepanjang hidupnya. Orang tersebut tidak akan bisa berkembang dengan maksimal dan mencapai titik terbaik di dalam kehidupannya, atau bahkan bisa jadi lebih buruk dari kondisi tersebut.  Hal inilah yang menjadi alasan mengapa sangat penting untuk mengenali dan mengembangkan potensi tersebut dengan semaksimal mungkin, agar bisa ikut berkembang dan sukses dalam berbagai hal. Entah sudah atau belum, tidak ada salahnya untuk mengenali kembali potensi di dalam diri.
Manusia memiliki beragam potensi diantaranya ialah sebagai berikut :
Potensi Berfikir
Manusia memiliki potensi berfikir. Sering kali Allah menyuruh manusia untuk berfikir, maka berfikir. Logikanya orang hanya disuruh berfikir karena ia memiliki potensi berfikir. Maka dapat dikatakan bahwa setiap manusia memiliki potensi untuk belajar informasi-informasi baru, menghubungkan berbagai informasi, serta menghasilkan pemikiran baru.
 2. Potensi Emosi
Potensi yang lain ialah potensi dalam bidang afeksi/emosi. Setiap manusia memiliki potensi cita rasa, yang dengannya manusia dapat memahami orang lain, memahami suara alam, ingin mencintai dan dicintai, memperhatikan dan diperhatikan, menghargai dan dihargai, cenderung kepada keindahan.
3. Potensi Fisik
Adakalanya manusia memiliki potensi yang luar biasa untuk membuat gerakan fisik yang efektif dan efisien serta memiliki kekuatan fisik yang tangguh. Orang yang berbakat dalam bidang fisik mampu mempelajari olah raga dengan cepat dan selalu menunjukkan permainan yang baik.
4. Potensi Sosial
Pemilik potensi sosial yang besar memiliki kapasitas menyesuaikan diri dan mempengaruhi orang lain. Kemampuan menyesuaikan diri dan mempengaruhi orang lain didasari kemampuan belajarnya, baik dalam dataran pengetahuan maupun ketrampilan.
Semakin dalam  kalian mengggali, semakin dalam pula kalian mengenal diri, semakin kenal diri tentunya akan mudah mengetahui dimana minat dan bakat kalian, dimana kemampuan kalian akan sesuatu hal. Tentunya kalian jadi paham, ada diposisi mana kalian sekarang jika mengenal betul diri  kalian sendiri. Potensi diri tentunya berhubungan dengan mau gimana sih kamu dimasa yang akan datang. Siapa yang tak ingin dimasa yang akan datang dengan memiliki kemampuan yang kalian miliki? Ada beberapa cara nih untuk mengenali potensi diri kalian.
Yang pertama, kenali diri kalian dengan cara sebenarnya minat dan bakat kalian itu dimana sih? Biasanya sih ngga jauh-jauh dari hobby yang nantinya bisa kalian kembangkan. Mengetahui apa hal yang kalian suka, yang dapat dikembangkan. Selali berlatih dan menggali sampai kalian menemukan apa sih yang kamu suka? Dan apa yang bisa dikembangkan?
Yang kedua, sadari impian kalian, mau jadi apa kalian kelak, yang tentunya potensi diri juga dapat terlihat dari sebuah impian yang kalian impikan loh!
Yang ketiga, mampu mengenali kekurangan diri kalian sendiri dan dapat mengatasinya, pada dasarnya tak ada manusia yang sempurna bukan? Sehingga kita mengetahui titik lemah kalian dimana dan titik unggul atau kemampuan yang kalian miliki.
Yang keempat, menghargai diri kalian sendiri yang akan membantu mengetahui dimana sih sebenarnya potensi diri kalian, kok bisa? Tentunya bisa, karena jika kalian menghargai diri kalian sendiri semua akan natural dan apa adanya.
Yang kelima, jika kalian masih seorang pelajar dibangku sekolah, peran guru BK juga bisa loh membantu mengenali potensi diri kalian. yang pastinya juga ahli dibidangnya bukan, seorang guru BK?
Setelah mengenal potensi diri , bagaimana  pandangan anda?  dimana kemampuan kalian? Batas mana minat dan bakat kalian???  Percayalah bahwa setiap orang pasti mempunyai potensi diirinya masing-masing . maka dari itu persiapkan bekal pengetahuan dan asah kemampuan.
Cobalah mengenali diri lebih dalam, gali semua yang terbaik dan terburuk di dalam sana, sehingga Anda bisa melihat diri yang sebenarnya. Hidup ini harus dijalani dengan satu tujuan, di mana titik inilah yang akan dijadikan sebagai sebuah pencapaian maksimal yang akan membuat bahagia. Bagaimana mungkin seseorang menjalani hidup tanpa tujuan yang tepat, bukankah dia akan selalu "hilang" atau bahkan tenggelam di jalan yang akan membawanya entah ke mana? Tujuan hidup inilah yang akan menjadi titik di mana Anda merasa "utuh" dan berhasil dengan sempurna. Artinya, anda merasa bahagia ketika mencapainya, bahkan meski itu harus dilakukan dengan sebuah upaya yang luar biasa keras sepanjang hidup. Tujuan hidup bukanlah mimpi panjang yang indah dan harus dirawat seumur hidup, sebab ini adalah sesuatu yang harus direalisasikan dan segera dicapai dengan baik. Untuk mencapai ini, kerahkan semua yang Anda bisa, termasuk semua potensi diri Anda yang belum pernah digunakan selama ini. Jika berupaya dengan sebaik mungkin, maka potensi diri akan ke luar dengan sendirinya dalam upaya tersebut. Untuk mencapai titik yang tinggi, maka harus memiliki motivasi yang kuat, sebab akan dibutuhkan sebuah kerja keras yang maksimal untuk mencapai hal tersebut dengan baik. Motivasi adalah sesuatu yang akan membuat kembali "hidup", meskipun telah hampir mati ketika berupaya untuk mencapai tujuan hidup.
Faktor yang lain juga yang sangat berpengaruh dalam potensi kita adalah dengan mengembangkan hobi yang kita senangi, ingat mengembangkan hobi yang kita senangi bukan sekedar ikut-ikutan karena merasa gengsi atau karena tuntutan dari pihak yang lain, namun jangan salah tangkap mencoba hal-hal baru juga bisa meningkatkan potensi kita namun karena dasar orang yang tidak berani mencoba hal baru atau mengambil resiko maka hal-hal baru yang telah saya sebutkan tadi hanya akan menjadi biasa-biasa saja. Jadi jangan takut untuk menggeluti bidang yang belum pernah kita geluti sebelumya. Yang dimaksud dengan potensi diri bukanlah bakat spesifik, tetapi adalah kekuatan atau kemampuan yang sebenarnya ada dalam diri Anda saat ini yang sedang menunggu untuk dimanfaatkan. Kekuatan ini bisa dimanfaatkan untuk bidang apa pun yang ingin Anda lakukan.
Pengembangan Karir dalam Geliat Revolusi Industri 4.0
Dunia akan memasuki era Industri 4.0. Di era tersebut, akan banyak bermunculan robot canggih, super komputer, kendaraan otonom, 3D printing, serta pengoptimasian fungsi otak manusia dengan editing genetik dan perkembangan neuroteknologi. Mungkin terlihat canggih dan membuat takjub, akan tetapi bukan berarti tidak ada kerugian yang ditimbulkan oleh revolusi industri tersebut. Revolusi Industri 4.0 ini akan menyebabkan disrupsi atau gangguan bukan hanya di bidang bisnis saja, namun juga pada pasar tenaga kerja.
Hal ini berarti akan ada banyak jenis pekerjaan yang hilang dan tergantikan oleh fungsi robot atau artificial intelligence. Para tenaga kerja manusia pun tidak menutup kemungkinan akan menghadapi jenis pekerjaan baru yang tidak pernah terpikirkan sebelumnya, sehingga revolusi ini mau tak mau menuntut kita untuk terus mengembangkan  skill yang sekiranya dapat bermanfaat serta mumpuni di masa depan. Lantas, apa saja skill yang dibutuhkan untuk pengembangan karir dalam menghadapi geliat Revolusi Industri 4.0?
Sebenarnya kita semua tanpa terkecuali mempunyai banyak sekali yang bisa di kembangkan. Namun sedikit dari kita yang tau bagaimana cara untuk mengenal dan mengembangkan potensi yang dimiliki.
Complex problem solving
Complex problem solving disini merupakan kemampuan penyeleasaian masalah kompleks dengan dimulai dari melakukan identifikasi, menentukan elemen utama masalah, melihat berbagai kemungkinan sebagai solusi, melakukan aksi/tindakan untuk menyelesaikan masalah, serta mencari pelajaran untuk dipelajari dalam rangka penyelesaian masalah.
2. Critical thinking
Critical thinking atau kemampuan berpikir kritis adalah kemampuan untuk berpikir masuk akal, kognitif dan membentuk strategi yang akan meningkatkan kemungkinan hasil yang diharapkan. Berpikir kritis juga bisa disebut berpikir dengan tujuan yang jelas, beralasan, dan berorientasi pada sasaran.
Creativity
Creativity atau kreatifitas adalah kemampuan dan kemamuan untuk terus berinovasi, menemukan sesuatu yang unik serta bermanfaat bagi masyarakat dan lingkungan. Creativity disini dapat juga diartikan mengembangkan sesuatu hal yang sudah ada sehingga dapat menjadi lebih baik.
People management
People management adalah kemampuan untuk mengatur, memimpin dan memanfaatkan sumber daya manusia secara tepat sasaran dan efektif.
Coordinating with other
Kemampuan untuk kerjasama tim ataupun bekerja dengan orang lain yang berasal dari luar tim.
Emotion intelligence
Emotion intelligence atau kecerdasan emosional adalah kemampuanseseorang untuk mengatur, menilai, menerima, serta mengontrol emosidirinya dan orang lain di sekitarnya.
Judgment and decision making
Judgement and decision making adalah kemampuan untuk menarik kesimpulan atas situasi yang dihadapi serta kemampuan untuk mengambil keputusan dalam kondisi apapun, termasuk saat sedang berada di bawah tekanan.
Service orientation
Service orientation adalah keinginan untuk membantu dan melayani orang lain sebaik mungkin untuk memenuhi kebutuhan mereka. Dengan memiliki service orientation, kita akan selalu berusaha memberikan yang terbaik pada pelanggan tanpa mengharapkan penghargaan semata.
Negotiation
Kemampuan berbicara, bernegosiasi, dan meyakinkan orang dalam aspek pekerjaan. Tidak semua orang secara alamiah memiliki kemampuan untuk mengadakan kesepakatan yang berbuah hasil yang diharapkan, namun hal ini dapat dikuasai dengan banyak latihan dan pembiasaan diri.
Cognitive flexibility
Cognitive flexibility atau fleksibilitas kognitif adalah kemampuan untuk menyusun secara spontan suatu pengetahuan, dalam banyak cara, dalam memberi respon penyesuaikan diri untuk secara radikal merubah tuntutan situasional.
Dalam Revolusi Industri 4.0 ini tentunya akan memaksa Indonesia untuk berbenah. Mulai dari masalah perubahan paradigma. kebijakan yang akan lebih bersahabat terhadap pengembangan, hingga perubahan paradigma pendidikan yang mempersiapkan kompetensi sumber daya manusia dengan pengetahuan.
Sesuatu hal yang dilakukan tentu tidak akan berbuah hasil manis jika dilakukan tanpa adanya konsistensi, maka dalam hal ini yang paling utama yang harus anda ingat adalah konsisten. Bila anda mengerjakan sesuatu hanya dalam beberapa hari atau bulan saja, maka tentu hasil dari potensi diri yang anda kerjakan belum terlihat, maka cobalah untuk tetap konsisten, dan yakin dan percayalah bahwa apa yang anda cita-citakan akan segera terwujud. Perlunya penggalian potensi diri dengan  Ilmu Pengetahuan, sehingga punya wawasan. Jika kita punya wawasan maka kita dapat berkomunikasi dengan baik. Semua itu harus punya landasan mental spritual agar punya dasar sebelum berangkat kearah tujuan. Jika itu sudah lengkap maka akan akan menjadi Kharisma yang terpancar kepada lingkungan sekitar.
Asah potensi diri untuk hadapi dunia kerja
Hadirnya revolusi industri 4.0 berkaibat pada persaingan dunia kerja yang semakin hari kian kompetitif. Fenomena sarjana pengangguran kini sangat lumrah ditemui, khususnya di Indonesia. Kondsi tersebut begitu memprihatinkan mengingat dampak pasar bebas yang dengan senang hati menyambut para pekerja asing.
Maka dari itu jangan hanya berdiam dan berpangku tangan, generasi milenial harus memiliki bekal utnuk menunjang karir. Ada beberapa karakter untuk sukses di dunia kerja. Dantaranya adalah sebuah keingintahuan besar (curiousity), kepemimpinan (leadership), inisiative), mudah beradaptasi (adaptable), ketekunan (persistence), dan kesadaran akan social  dan budaya (social & culture awareness). Siap bekerja bukan hanya soal mengantongi ijazah dan curiculm vitae (CV) saja, melainkan tentang menguasai kemampuan, menguasai soft skill, dan hard skill yang diperlukan. Maka dari itu perlunya menggali potensi yang ada pada diri. Sebab bila tidak, nantinya akan sulit bersaing dalam dunia kerja.
Dan keuntungannya dalam mengasah potensi diri ialah bisa bekerja sesuai kemampuan dan keahlian. Dalam mengembangkan karir jadilah orang yang mudah beradaptasi dengan lingkungan, tangkas dalam bekerja sama, mau belajar dan menghargai orang lain,dapat mengambil keputusan dengan bijaksana, manajemen waktu dengan baik,dan melatih skill dengan aktif, mengasah bakat dan minat.
Kesimpulan
menggali potensi diri tentunya penting. Karena potensi diri itu adalah komponen utama, potensi diri itu adalah cara kalian mengukur sampai mana kemampuan kalian yang arahnya untuk mengetahui sebenarnya apasih bakat dan minat kalian yang bisa dikembangkan. Jadi potensi diri itu harus digali dan dicarai. Pada dasarnya semua orang memiliki potensi diri, meskipun tidak semua orang menyadari hal ini di dalam diri mereka. Bukan orang lain, namun diri sendirilah yang harusnya paham dan menemukan potensi tersebut di dalam diri. Mulailah menggali dan memahami diri sendiri, agar bisa menemukan dan mengembangkan potensi diri yang ada pada diri. Jika menghadapi hambatan dan kegagalan untuk mencapai tujuan jangan menyesal dan mengadili diri sendiri berlarut-larut. Jadikan kegagalan sebagai pengalaman dan bahan pelajaran yang berharga untuk maju.
Daftar pustaka:
http://sosiologis.com/potensi-diri
https://www.dosenpendidikan.com/potensi-diri-pengertian-jenis-ciri-mengembangkan/
http://sekolahbagiilmu.blogspot.com/2017/02/pengertian-potensi-diri-dan-macam.html
https://bemylittleteddy.info/coutdown?source=007&
https://www.youtube.com/watch?v=BQoygW1hVVU 
*Esai pemantik diskusi di atas kemungkinan besar akan direvisi sesuai bentuk terbaiknya ketika akan dibukukan dalam Bunga Rampai Esai Lingkaran kelak.